International Christian Fellowship
We are inviting you to be a part of our Christmas party this Sunday, December 25. (please arrive at 9:45) at Falkensteiner Hotel, Bulevar Mihajla Pupina 10k, Belgrade. After great program;  Angels, choir and encouraging messages of Christmas, we also prepared presents for children up to 14 years old.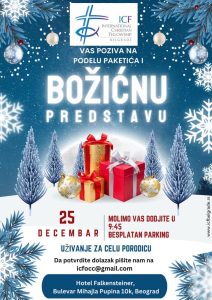 ICF Belgrade was formed in November 2008 by a group of believers wanting to worship together in English, while living in Belgrade. Our services and preaching are based on God's Word, the Bible. We come from many different traditions and cultures, and enjoy fellowship with each other. Our aim is to provide a place where God can renew us spiritually and equip us to be a blessing for the surrounding community. Our Sunday services are held in English each Sunday at 10:00 hrs. in Falkensteiner Hotel (For details click here).
ICF is led by a Leadership Team who organise the activities of the church. Our worship team is responsible for the worship music. We have a Sunday school for children. On the first Sunday of every month, we celebrate Holy Communion.
The church is more than the Sunday meetings. During the week, we have a prayer group on Tuesday evenings, a ladies' daytime Community Bible Study group on Wednesday mornings, a Bible study group in Serbian Thursday evenings and a men's Bible study group on Saturday mornings. If you want to know more or to get involved, please feel free to contact us.
to send us your prayer request please click on the envelope or write to prayer@icfbelgrade.rs
Bulevar Mihajla Pupina
10K New Belgrade
Preachers Name - Sermon Title
Preachers Name - Sermon Title
Preachers Name - Sermon Title
Preachers Name - Sermon Title
or send an e-mail to contact@icfbelgrade.rs